About Us
Welcome to official website of Dr. Usha Pratap, a dedicated and one of the best pediatric cardiologists in Pune. Dr. Usha Pratap has completed MD and MRCP and currently affiliated with Pune's prestigious Deenanath Mangeshkar Hospital as a consultant pediatric cardiologist. She has been extensively trained in the field of pediatric cardiology and is well known for her expertise in postnatal diagnosis and management of congenital heart diseases in newborns, infants, children and adolescents as well as treatment of acquired heart diseases. Being an expert pediatric heart specialist, Dr. Usha Pratap believes in providing evidence-based, comprehensive cardiology care for children of all ages and young adults. While doing so, she keeps the child and parent satisfaction at the forefront of decision-making. This is the reason, Dr. Usha Pratap makes sure that all questions or concerns of parents are answered in detail so they can understand their child's diagnosis and plans to deal with any issues confidently. Some of the commonly offered services by Dr. Pratap include evaluation of heart murmurs, diagnosis of congenital heart defects, management of heart failure, medical management of rhythm abnormalities, high blood pressure (Hypertension), acquired heart disease, chest pain in children, syncope (fainting), palpitations (fast heart rate, tachycardia), management of hypercholesterolemia, cardiac evaluation and prevention counseling for healthy lifestyles etc. Dr. Usha Pratap routinely sees patients with congenital heart defects such as bicuspid aortic valve, patent ductus arteriosus (PDA), atrial septal defect (ASD), ventricular septal defect (VSD), atrioventricular septal defect, partial anomalous pulmonary venous connection, pulmonary stenosis, aortic stenosis, coarctation of aorta, corrected transposition of great arteries, anomalous coronary artery, congenital heart block, tetralogy of Fallot, transposition of great arteries, tricuspid atresia , truncus arteriosus, Ebstein's anomaly, total anomalous pulmonary venous connection, hypoplastic left heart syndrome. Patients who visit Dr. Usha Pratap with acquired heart conditions include those with aortic insufficiency (commonly from bicuspid aortic valve), mitral regurgitation, hypertrophic cardiomyopathy, dilated cardiomyopathy, arrhythmogenic right ventricular dysplasia, aortic dilation/aneurysm, Marfan syndrome, myocarditis, endocarditis. Dr. Usha Pratap has successfully treated several cases of childhood arrythmia's such as premature atrial contractions (PAC's), premature ventricular contractions (PVC's), supraventricular tachycardia (SVT), atrial flutter, ventricular tachycardia (VT), atrioventricular block and genetically inherited syndromes associated with arrhythmias such as Wolff-Parkinson-White syndrome (SVT), Long QT syndrome, Brugada syndrome. Explore Dr.Pratap's website to know more about different procedures & facilities, get credible health information, ask questions, give feedback consult remotely or book appointment and connect with Dr.Usha Pratap's clinic instantly.
Our Doctors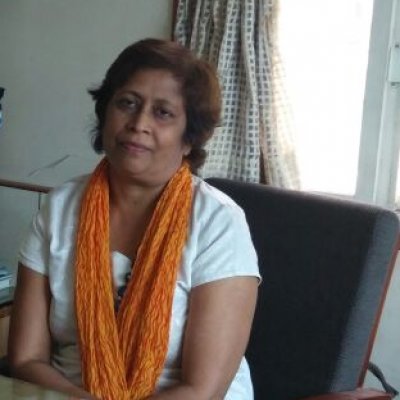 Dr. Usha Pratap
Pediatric Cardiology
Qualifications
MD, MRCP
Speciality
Pediatric Cardiology
Practicing since
1990
Languages known
English, Hindi, Marathi
Timing
mon
9:00 AM-1:00 PM 12:00 PM-12:00 PM
tue
9:00 AM-1:00 PM 12:00 PM-12:00 PM
thu
9:00 AM-1:00 PM 12:00 PM-12:00 PM
fri
9:00 AM-1:00 PM 12:00 PM-12:00 PM
sat
9:00 AM-1:00 PM 12:00 PM-12:00 PM
Procedures & Treatments
We diagnose various ailments and diseases and offer specialized treatments or perform procedures to help you tackle your condition better or recover faster.
Send us enquiry
to know more about any specific treatment or procedure that you are looking for.
Some of the procedures routinely done at our clinic are listed below.
Facilities & Services
Outpatient Services
Outpatient Services
Specialist OPD
Diet & Nutrition Services
Counseling Services
Pathology Sample Collection
Health Check Ups
Day Care Facility
Superspecialist OPD
Radiology Facilities
Appointment Management
Appointment Management
Walk-in Appointments
Phone Appointments
Online Appointments
Appointment Reminders
Help Desks
Help Desks
Dedicated Help Desk
Dedicated Billing Desk
Dedicated Insurance Desk
Health Information
We believe in providing high quality health information to all our patients. Have a look at our health information repository which has been built keeping your information needs in mind.
Find numerous health topics written in simple & easy to read language. Increase your understanding of specific health topics with FAQs, videos & other patient-friendly resources.
Click below to explore various health topics you may find helpful.
Ratings
Rate us
, this will help us to improve your experience
x
overall satisfaction level 5 Based on

92

votes
Timing
mon
9:00 AM-1:00 PM 12:00 PM-12:00 PM
tue
9:00 AM-1:00 PM 12:00 PM-12:00 PM
thu
9:00 AM-1:00 PM 12:00 PM-12:00 PM
fri
9:00 AM-1:00 PM 12:00 PM-12:00 PM
sat
9:00 AM-1:00 PM 12:00 PM-12:00 PM
Address & Contacts
Roopanand, 1st Floor, Above HDFC ATM,Sahaney Sujan Park,Near Signature Restaurant, Lullanagar, Pune ,Maharashtra- 411040 , India